Reopen Church for Holy Mass with Faithful REGISTRATION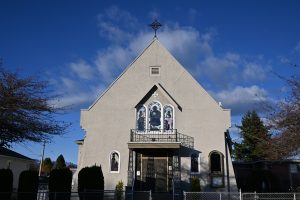 Holy Masses with the faithful
We return to celebrating Holy Masses in the church with the faithful. We are glad that after 5 months we can pray as a community gathered in our temple. However, sanitary restrictions apply: the limit of participants – Up to 50 people may attend or 10% of a place of worship's total capacity, earlier registration of participants, hand disinfection at the entrance to the church, masks in the church, we cannot sing together. Please understand and follow these recommendations and follow the volunteers' instructions. On weekdays, you must enter the list at the entrance to the church.
REGISTRATION IS MANDATORY
To participate in the Holy Mass celebrated in church, it is required to check the health condition according to the following list:
Fever
• Cough
• Shortness of breath
• Runny nose
• Sore throat
• Chills
• Painful swallowing
• Nasal congestion
• Feeling unwell / fatigued
• Nausea / vomiting / diarrhea
• Unexplained loss of appetite
• Loss of sense of taste or smell
STAY HOME IF YOU HAVE SOME OF THESE SYMPTOMS!
Anyone who enters the registration list certifies that he or she does not have the symptoms listed above.